About QuikLevel Contracting, Inc.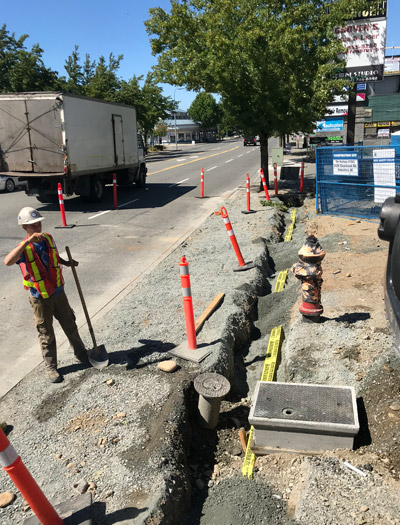 QuikLevel Contracting, Inc. was established in 2014 by owner and operator Harry Quik. With a firm commitment to efficiency and quality in every project, Harry built a service that could recognize and bring to life each and every client's vision. While QuikLevel Contracting, Inc. has contributed to developments in several areas of the market, our current focus is on projects in the civil sector, as well as underground utility services for small-to-medium residential developments.
At QuikLevel, we are proud to employ a dedicated team of operators and innovators ready to work for your needs, and with every new job we have the pleasure of seeing our team members' expertise and commitment to customer satisfaction grow stronger. We also continue to invest in a growing fleet of reliable machines—from workhorse skid-steers and excavators to the latest in cutting edge laser guidance systems. With this equipment we are happy to provide accurate and detail-oriented grading and finishing. The future of excavating is bright and evolving, and we are excited to innovate in the field with an eye toward improving timeliness, quality, and cost-efficiency for our clients.
In the civil and residential development sectors, our groundwork services include pipe install for storm, sanitary, waterworks, hydro, communications, street lamps, and more. Since our establishment in 2014, we have developed close working relationships with a number of local suppliers for these and other materials. We are always sure to maintain those relationships day-to-day, allowing us to keep jobs running smoothly and to secure the best products at the best rates for each of our clients' projects.
Operating six days a week from our home base in Chilliwack, BC, QuikLevel Contracting, Inc. is pleased to offer a dynamic range of carefully crafted solutions for all of your civil and excavating projects across the Fraser Valley.
Meet the Owner
Harry Quik lives in a quiet Chilliwack neighbourhood with his wife Alicia and their two children.
Harry was raised on a family farm that instilled in him a strong work ethic, which he has carried with him throughout his career. He has over ten years of experience in the construction field, ranging from individual and commercial residential developments to agricultural and civil projects. Harry has been interested in heavy machinery, construction, and engineering for most of his life, and he is happy to be living out his dreams with QuikLevel Contracting, Inc. by contributing to exciting new projects around the Lower Mainland.
On Time, On Budget!
Great company to work with. QuikLevel always does excellent work, on time and on budget.
James Stiksma
Canadian Septic Ltd.
Excellent Level of Service!
We have used QuikLevel Contracting many times over the last few years and have been more than happy with their level of service. A decided bonus is the varying sizes of equipment and civil services offered, which in our business gives us added flexibility when working on a project – especially since we do not have to bring in several other civil contractors to do the same level of work. Highly recommend to work with.
Steve Wicks
NY Construction Management Ltd.
Do You Have An Upcoming Project?
If you have an up coming project to discuss, we would love to hear from you.
Our experts are on hand to provide you with sound advice about your project.