Our Services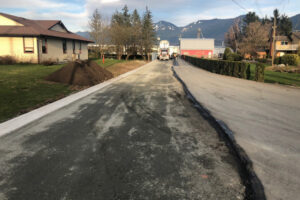 As experts in all facets of site development, we provide a variety of services to our clients. Whether you need us for excavating, installing or repairing underground utilities, or complete site development, our work is always expertly managed and executed by our dedicated team. We have worked extensively with roadwork asphalt projects and with specialized concrete projects. In other areas like septic installation, civil, and utilities, we have enough experience to guide your projects with the confidence and efficiency you deserve. We are a versatile company and we are confident that we can answer all your needs. If you want more information about these or any other services that we offer, we would be happy to answer any questions that you might have.
You want the utmost care and safety on the jobsite, both during the construction itself and with the end product, and that's exactly what QuikLevel delivers. For years we have been providing our customers with exactly what they need in a time and manner which makes us the optimal choice for any job. Our clients would (and do!) happily attest to the excellence of our road work. From the beginning of the project to the day we pack up after a job well done, we are pleased to offer a high level of professionalism and skill. We only bring our best to execute every job.
Our knowledgeable and experienced project managers provide our clients with well-planned timelines and run a structured jobsite with deliveries and services operating on a smooth, organized schedule. This means we keep the stress of scheduling off your mind while we push through each stage of a project with a focus on quality.
Our services are wide-ranging, and we encourage you to contact us with your projects to talk through what we can do for you. In the meantime, here is a short list of some services we offer:
– Project planning
– Commercial site development
– Underground utilities
– Storm drainage
– Sanitary sewer
– Septic installations
– Excavations
– Grading and paving
We believe in the power of teamwork, efficiency, and organization to produce quality in every job. We're fully committed to your satisfaction, and we maintain a reputation as a team you can count on: we'll do whatever it takes to get the job done.
Do You Have An Upcoming Project?
If you have an up coming project to discuss, we would love to hear from you.
Our experts are on hand to provide you with sound advice about your project.